Halloween Decoration ideas with Atezr Laser Engraver
Oct 21,2022 | Atezr
With Halloween approaching, it's common for the majority of households to decorate their homes to get in the spirit, and workshops manufacture home decorations. Would you like to collaborate with your kids and spouse to decorate your home or yard for Halloween? It will facilitate the strengthening of your bond and the release of your creativity. Will you assist Granny and Grandpa with their decorating? They are allowed to place the wooden Jack-o-lanterns you made in the yard. Additionally, it's a nice option to customize ghost earrings to go with your girlfriend's Halloween attire. Atezr laser engraving machines have your back. It is so fascinating and amazing when you find some devilish items you can make with your own laser engraving machine. Here are six Halloween decoration ideas made with a laser engraver to inspire you or someone you know.
1. LaserCut Halloween Lamp
A Halloween lamp is one of the best decorations for the spooky season!
This little lamp is ideal for adding a frightening touch to your home. Some 3 mm plywood and LED flameless candle tealights are all that you need to make it.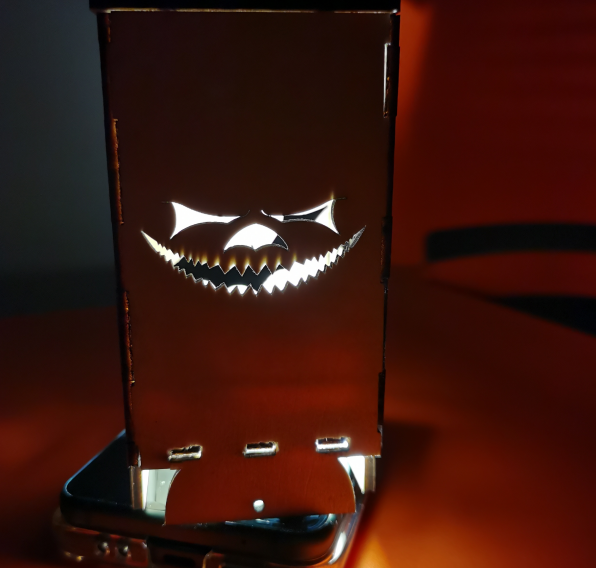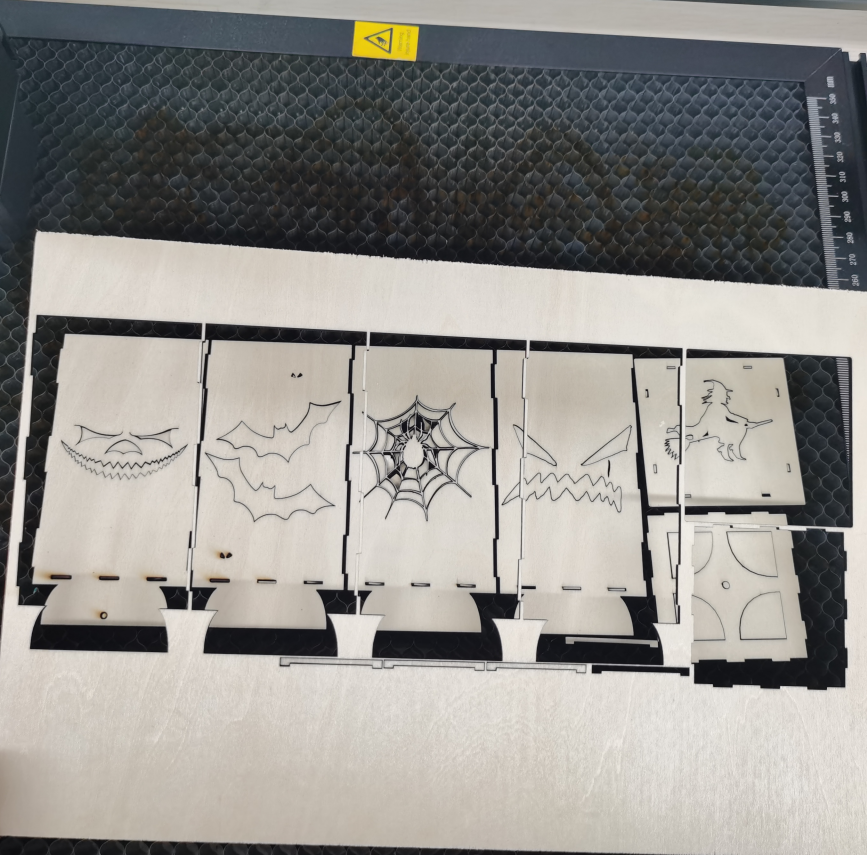 The Atezr P20 PLUS 20W laser engraving machine with parameters set to 540 mm per minute and 100% power is our ideal equipment for this project. The Atezr P10 10W laser engraving machine, which takes longer to engrave than the P20 PLUS 20W, is also a good option if you prefer more precise cuts.
2. LaserCut Halloween Pumpkin and Guitar Ornaments
These ornaments are eye-catching and appealing due to their unique and intricate design. Adding some small decorations like these to your home can help to intensify the Halloween ambience. Small homemade ornaments can be placed on tables or hung on walls, and you just need 3 mm plywood to make them.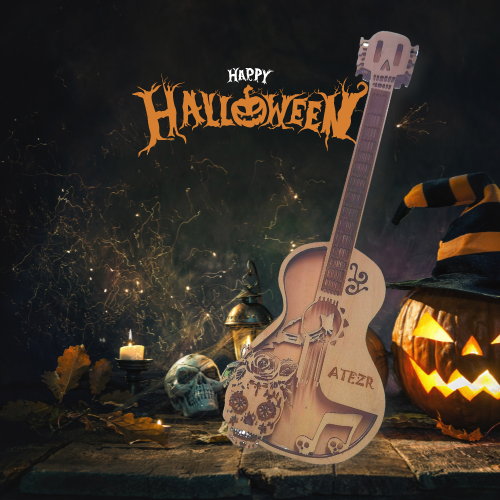 Pumpkin ornaments can be cut with an Atezr P20 PLUS 20W laser engraving machine with settings set to 540 mm per minute and 100% power. Guitar ornaments are also made by the same machine with the engraving settings at 100 mm per minute and 35% / 40% power and the cutting settings at 100 mm per minute and 100% power. This way, the engraved designs are more vivid.
3. Elegant LaserCut Ghost Earrings
Why not create your own scary DIY jewellery? These laser-cut Halloween ghost earrings, which can be worn or given to your friends, will be your best accessory on Halloween. Only 3 mm plywood is needed to create them.
The ideal tool to use is the Atezr P20 PLUS 20W laser engraving machine with the engraving settings at 3000 mm per minute and 40% power and the cutting settings at 540 mm per minute and 100% power. The combination of engraving and cutting can make the earrings look more realistic and menacing when they're done.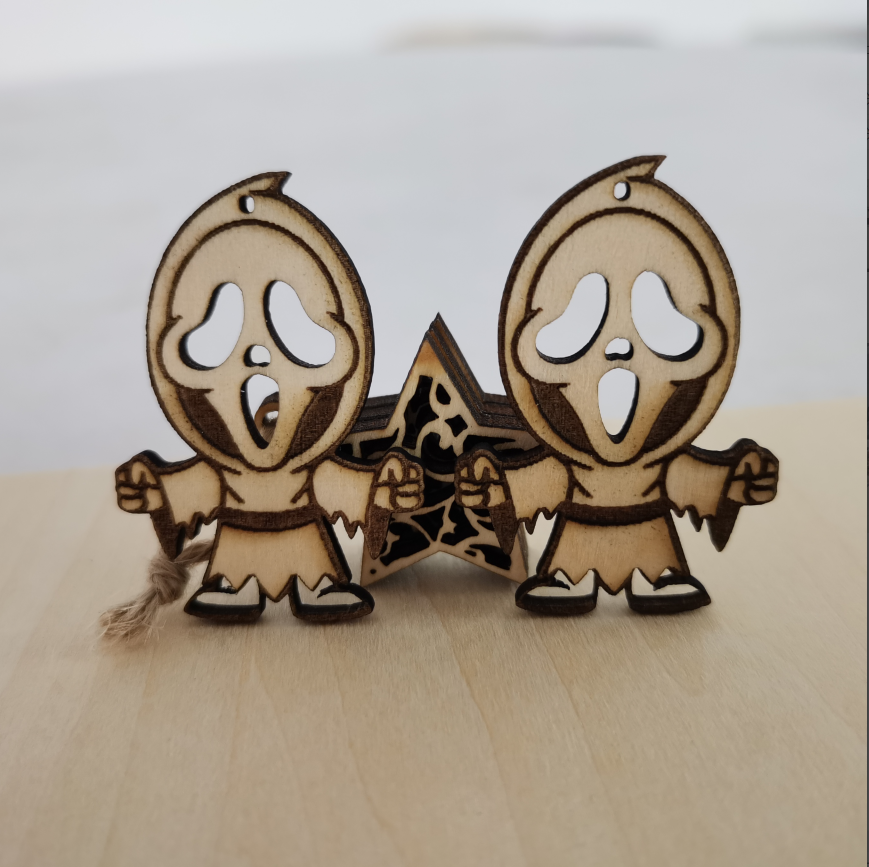 4. LaserCut Halloween Door Plate
Those seeking something unique should definitely consider this project. You can use your creativity to design a brand-new Halloween door plate made with the Atezr P5 5W laser engraving machine, whose engraving is more refined than the 10W and 20W laser engraving machines, and add your personal touch to it with paint. You'll adore how it turns out, and your home will look much spookier with it hanging on your door on Halloween night.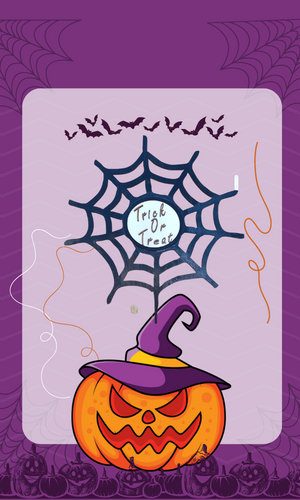 5. Laser Cut Halloween Earphone Holder
Does a tangled earphone cord bother you? This earphone holder, merely made of plywood, not only makes it easier to untangle your earphones, but its monster pattern can also add a creepy touch come Halloween.
The optimal tool for this project is the Atezr P20 PLUS 20W laser engraving machine with settings set to 540 mm per minute and 100% power.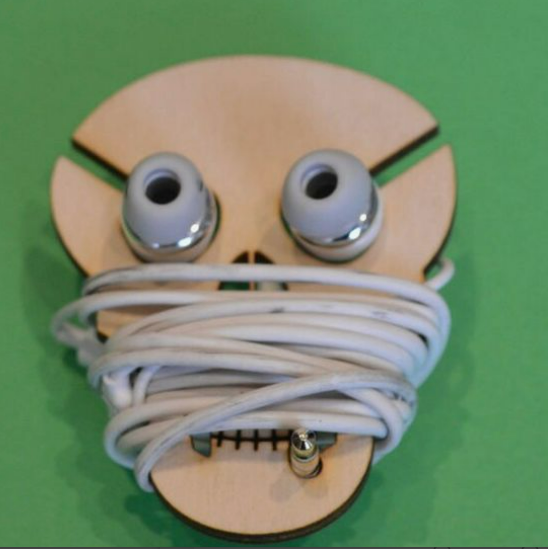 6. Skull Pencil Holder
You can make a skull pencil holder out of basswood plywood to easily add some spookiness to your interior design. In your home office, a skull pencil holder can serve as a little element of hocus-pocus that also organizes all of your stationery.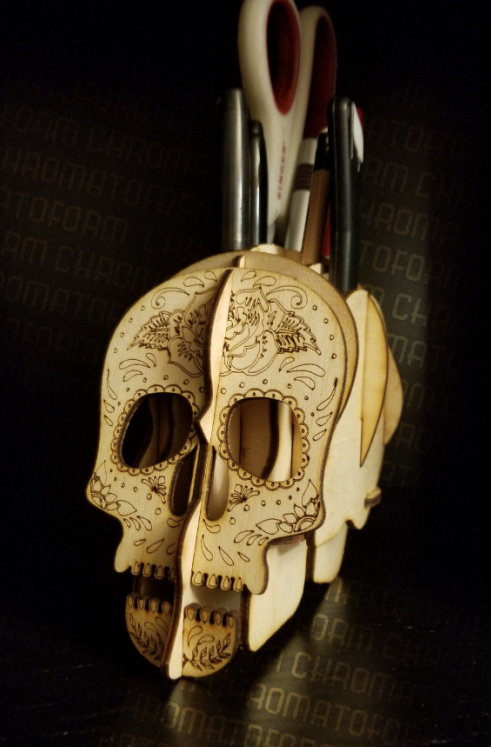 It's a worthwhile endeavour to create DIY Halloween decorations with Atezr laser engraving machines. Furthermore, Atezr products can be used to engrave not only plywood, but also plastic, leather, stainless steel, and other materials to create Halloween toys and gifts. If you like the idea of using laser-cutting machines to create personalized Halloween decorations, share this so that people close to you will have some wonderful decor ideas too.
Click here to learn more about our laser engravers if you don't already have one.
Comment