Create Unique Laser-Cut Gifts for Your Lover
Feb 01,2023 | Atezr
Create Unique Laser-Cut Gifts for Your Valentine with Help from Atezr
Valentine's Day is one of the most important romantic holidays of the year, second only to a couple's anniversary. With February approaching, love is once again in the air, and you can see it everywhere you go—boyfriends and girlfriends smile a little wider as they walk down the street holding hands, and store shelves are full of candy, decorations, and premade gift boxes plastered with hearts and roses.
To make your Valentine's Day truly special, nothing can be better than doing something more personalized for your partner with your own hands. Homemade crafts are items created by someone personally, which usually makes them more meaningful and personal, so personalizing decorations is vital when you create some homemade items for your partner. Adding something unique and special that only your partner would appreciate can make your decorations even more special and meaningful.
Whether it's a romantic gift or mood-setting décor, a laser engraver is the perfect tool for engraving one-of-a-kind holiday designs onto handmade crafts that your sweetheart will adore. Alternatively, a laser engraving machine can serve as the foundation of your own small business, so you can monetize your creative work by mass-producing original handicrafts for excited customers. Either way, Atezr has gathered some ideas to inspire you to get started. Without further ado, here are our suggestions for fun and memorable Valentine's Day crafts made with a laser engraving machine.
Laser-Cut Rose Wall Decoration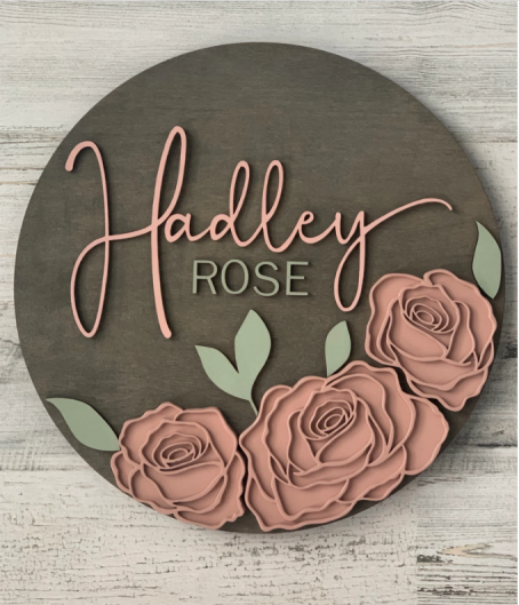 This laser-cut rose is a great alternative to live roses if you're looking for a stunning and elegant Valentine's Day gift or home decoration for your partner this Valentine's Day. Your dear one will be enchanted by its sheer beauty every time they see it hanging on their wall. The intricate layers of engraved leaves and petals can be easily produced with the Atezr P20 PLUS 20W laser engraving machine and the Atezr F4 honeycomb working table panel underneath. Not only will the F4 honeycomb working table panel protect your work surface while creating the cutouts in the wood, but it will also dissipate some of the heat from the laser to prevent burning and ensure much cleaner edges overall.
Laser-Cut Hanging Heart Display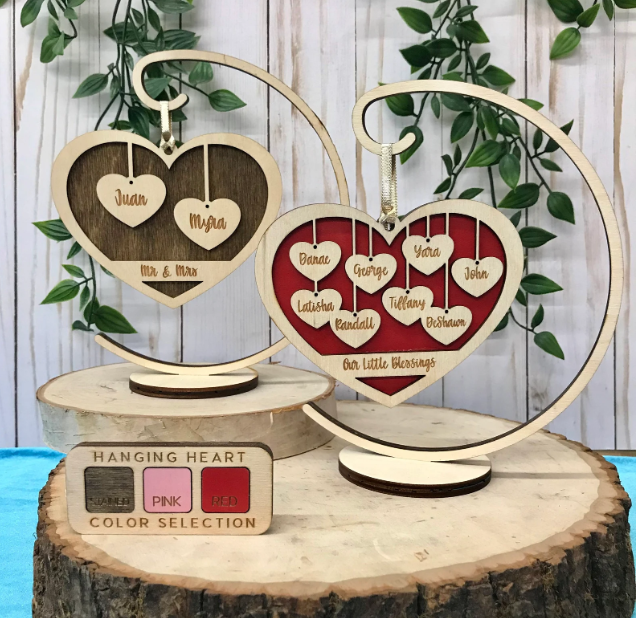 Preparing a unique display adorned with hearts is a great way to make sure your partner remembers this memorable Valentine's Day. Completely customizable with different names, fonts, and colors, a hanging heart display is the perfect medium through which to express true love. It isn't limited to romantic love, either; the small hearts can be adorned with the names of children, other family members, or even pets. This is a pretty big project,so we recommend the Atezr V35 PLUS laser engraver with the Atezr KE extension kit to greatly expand your working area. The extra space is ideal for accommodating oversized designs as well as producing large batches of smaller engravings, like if you wanted to make lots of individual versions of the mini name hearts seen here.
Engraved Leather Picture Frame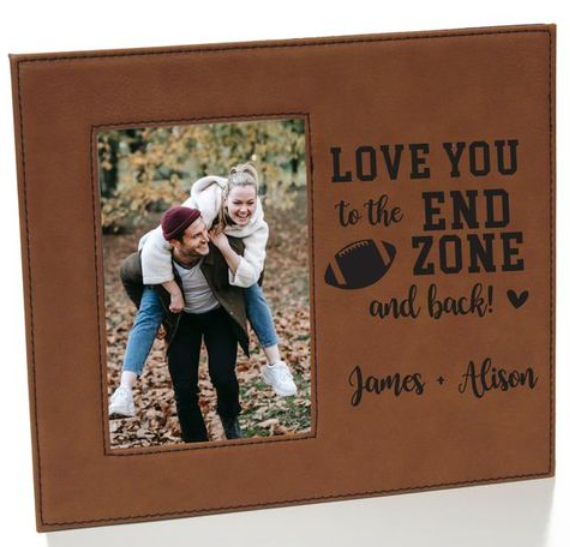 Let your partner know you treasure your exclusive memories all the time by making a Valentine's Day picture frame. Whereas typical wooden or metal picture frames have thin borders that don't leave much room for creativity, a leather picture frame like this one is a great canvas to work with for laser engraving. Not only does it still have space for a decently sized photo, but you can also write a nice, long heartfelt message in large font so it can be clearly read from across the room. Even better, any extra room you have can be used to add fun embellishments to make your thoughtful words pop out even more. The Atezr P10 10W laser engraving machine is a good option for this particular craft project.
Laser-Cut Acrylic Valentine Hearts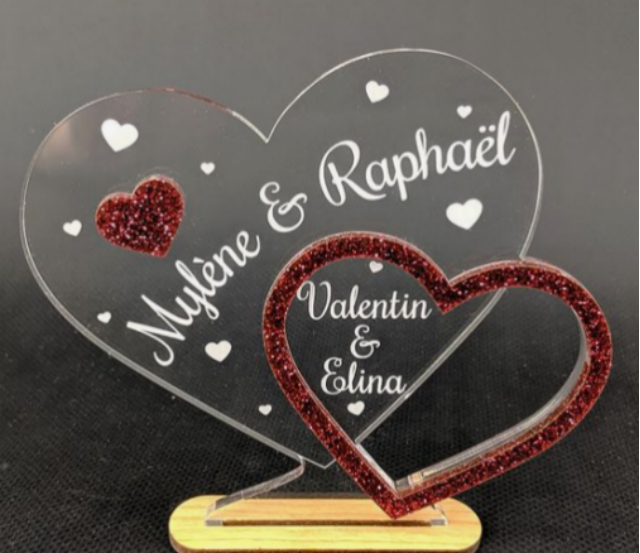 A set of engraved acrylic hearts is perfect for commemorating your and your partner's love on Valentine's Day. With your and your lover's names on full display in delicate cursive, everybody will know just how dedicated you are to one another. If you have kids or pets, you can add their names to show your appreciation for the whole family! Add sparkles and little heart engravings to really make it your own. The Atezr P10 10W laser engraving machine is an excellent choice for this and other kinds of small projects.
Laser-Cut Wooden Roses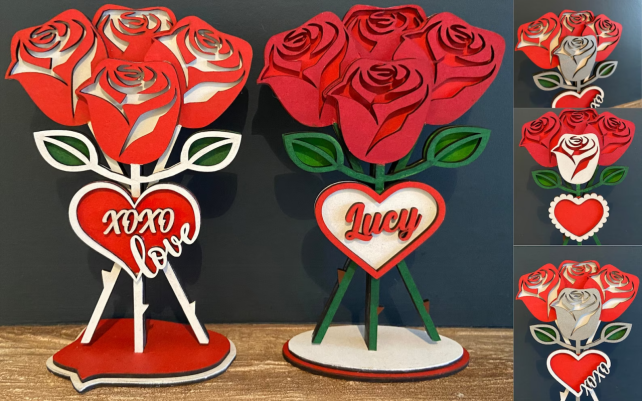 Why spend so much money on a bouquet of live roses when you can create a more thoughtful and permanent gift yourself? Blossoms from the florist will wither and die within just a couple weeks, but laser-cut wooden roses featuring your partner's name will be around forever to look at and admire. With the Atezr P20 PLUS 20W laser engraving machine, you can give your valentine a gift as everlasting as your love.
Laser-Cut Lovebird Wall Clock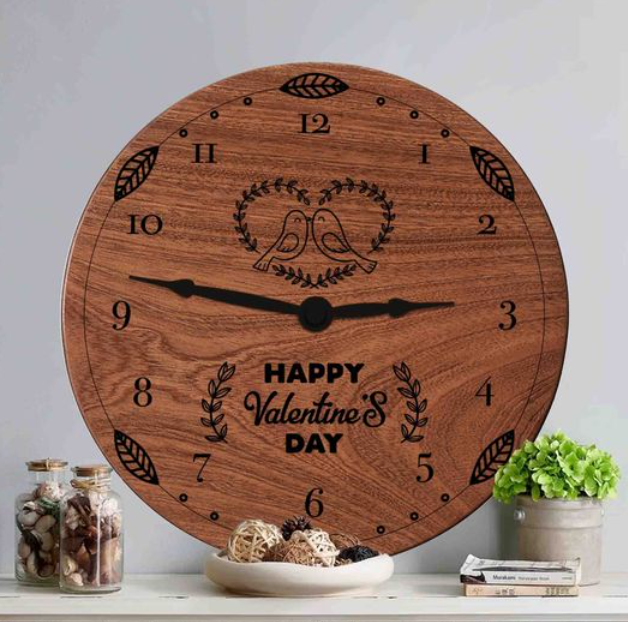 Your partner is sure to treasure your thoughtful creation by displaying the clock on the wall of your house as a reminder of your love. Its rustic charm makes it a stunning addition to your home décor, and it's actually really convenient to have if your partner doesn't have their phone or can't check what time it is for any reason. The pair of kissing lovebirds nesting on the clock hands will remind your special someone of how much you care about them whenever they check the time. We recommend the Atezr V35 PLUS 35W laser engraving machine for its large engraving area, high power, and reliable accuracy. Furthermore, it comes with the KA air assist accessory, which will remove any smoke or dust coming off the wood as it gets engraved, ensuring that the laser is unobstructed and the workspace is clean.
In Conclusion…
Making your own Valentine's Day decorations and gifts is a cinch with an Atezr laser engraving machine, and it can be so much more rewarding than just picking up something prepackaged from the grocery store. There's no better feeling than watching your partner's face light up when they get a special homemade gift unlike anything they've ever seen before. If you like our suggestions, we encourage you to try them out or use them as inspiration when designing your own engraving project at home. We hope you have a fun and incredibly romantic Valentine's Day!
For more information on laser engraving machines and their corresponding accessories, please visit the Atezr website.
Comment